Episode 31
More Zoom Features! LIVE streaming & Breakout Rooms (Zoom, part 4)
Welcome to show number thirty-one! In today's show, CJ continues to show us how to use Zoom! We add to last week's tips and we look at LIVE streaming and Breakout Rooms! Join our Facebook group, hang out during our LIVE taping and join in on our ongoing discussions!
Join our Virtual Business Networking:
Welcome + Greetings
How it Works
How to Join, Participate, Watch & Listen Later
Disclaimer – Consult your attorney!
Sponsors:
Featured Topic:
Zoom Update!
We review these two features now ON by DEFAULT:
These two features are Cool! Try them!

Stream LIVE
Breakout Rooms

Need More Help? I'm available for private coaching! Reach out today!
Ask a Web Geek:
Last Time on AaWG
Jump into our ongoing conversations!
CJ! Will You Look at my Website and Tell me What you Think?
CJ's Website Treasure Hunt = Virtual Safari exploring your website

Free Digital Copy of 5GKtSyW
Worksheet to outline your goals and target market
Business Directory Listing Report
45-min Private Virtual Meeting to explore your website
Detailed Summary Report of our expedition findings
Optional Upgrade: Full Video Recording, Hosting and Download
Sign Up & Book your Time at MyWebsiteSafari.com

What are YOUR questions? How can we HELP YOU?
More Resources & links at GilbertStudios.com/resources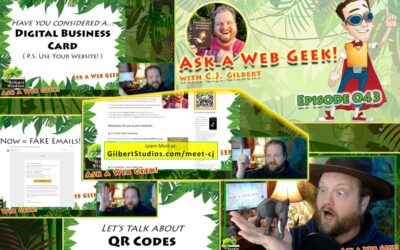 Episode 43 Return of the Geek: Electric BoogalooWelcome to show number forty-three! In this show, the geek returns with follow up warnings, new scams, new ways to network online and off (using your website of course!) and how to use some new, fun tech along the way....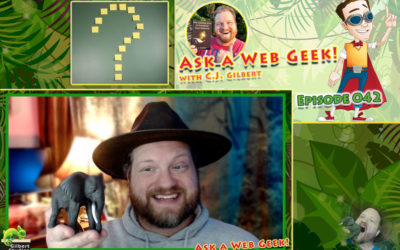 Episode 42 Welcome Back ReReboot!Welcome to show number forty-two! In this show, we get back into the swing of things, figure out what's new and remind you of how to plug into our community and recommend some previous episodes. Come join our group on Facebook and be...
New Episodes Weekly
LIVE Taping Wednesdays @ 9 AM PT / Noon ET
Replay + YouTube + Podcast to follow