Episode 27
Jump In! The Water's Fine! How to Meet & Work Online with Zoom
Welcome to show number twenty-seven! In today's show, CJ shows us how to use the "Zoom" platform to stay connected with family & friends and continue our business efforts online! Come join our Facebook group to be part of our LIVE taping and join in on our ongoing discussions!
Join our Virtual Business Networking:
Welcome + Greetings
How it Works
How to Join, Participate, Watch & Listen Later
Disclaimer – Consult your attorney!
Sponsors:
Featured Topic:
It's Time to Go Online!

COVID-19 / Coronavirus is changing our world. Let's use our tools to stay connected online!
More info at GilbertStudios.com/blog

Sign up for your Free account here:
Join a Meeting Here using a Meeting ID:

…or use a direct provided link.

Download & Install – You'll need to:

Allow, Accept, Approve
Grant Access to Video and Microphone
Yes = Connect via Computer Audio

Check your Status – Are you muted or visible?
Need More Help? I'm available for private coaching! Reach out today!
Join our Virtual Business Networking!
Ask a Web Geek:
Jump into our ongoing conversations!
Last Time on AaWG
Joe asks about "opening better" online!

CJ discusses how "people choose the familiar"
See episode 10 for more info on Testimonials

CJ takes us on a field trip to see a new solution he built to replace his linktr.ee page
What are YOUR questions? How can we HELP YOU?
More Resources & links at GilbertStudios.com/resources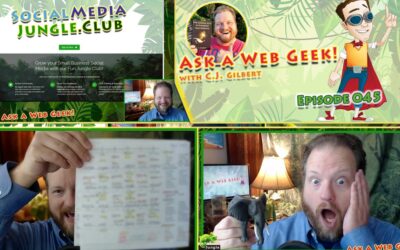 Episode 45 Show and Tell: Announcing (and Working on!) Social Media Jungle .ClubWelcome to show number forty-five! In this show, the geek practices what he preaches as he creates numerous pieces of content out of one taping! Join our Facebook group, ask any questions...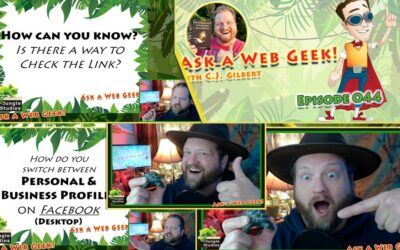 Episode 44 Zoop Whoop! Be Safe & Switch Profiles with EaseWelcome to show number forty-four! In this show, the geek encourages you to take slow, small steps as you keep moving forward! Be vigilant and safe as you browse the internet jungle! Join our Facebook...