Ask a Web Geek
Ask A Web Geek is a free weekly FB Live in which CJ dons his Web Safari hat and attempts to answer your every question about websites, marketing, online tools, technology and more!
Check Out What I'm Doing Right Now!
Introducing…
Geek Bytes
The individual topics and questions answered on our show presented in a smaller one-at-a-time video format!
SUBSCRIBE now and hit the bell to be notified of every one!
Featured Episode
AaWG042 – Welcome Back ReReboot!
Welcome to show number forty-two! In this show, we get back into the swing of things, figure out what's new and remind you of how to plug into our community and recommend some previous episodes. Come join our group on Facebook and be part of our LIVE taping every Wednesday! Join our ongoing discussions and share your questions and ideas!
Episode 42     |    00:24:16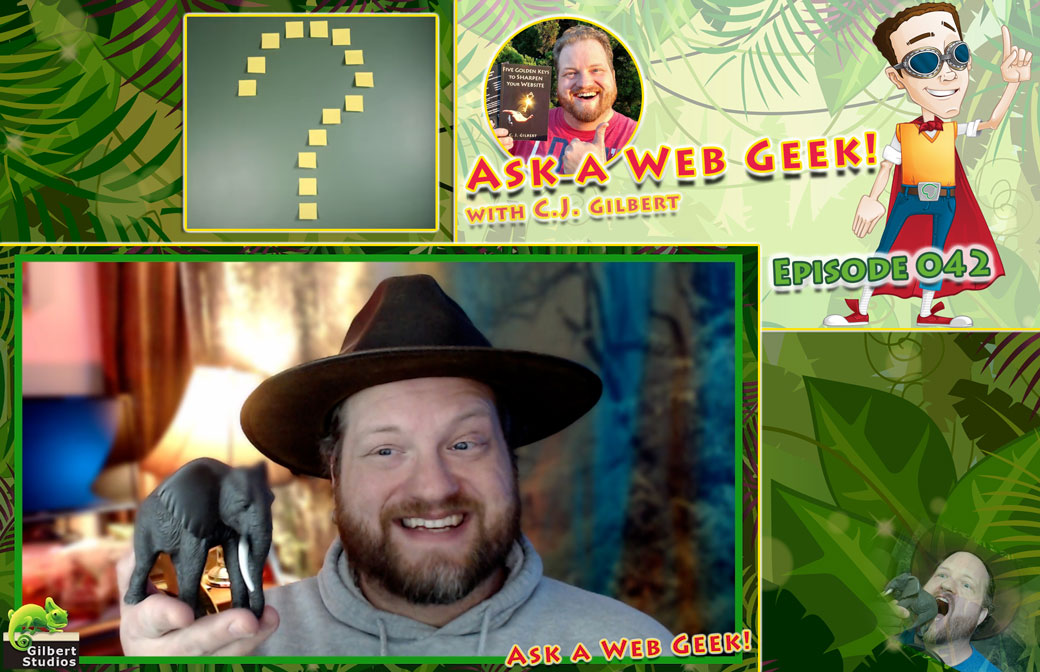 Episode 41 Warning! Domain Name Renewal & Listing SCAM!Welcome to show number forty-one! In this show, we remind you about a hidden trap of the internet jungle. It's a deceptive advertising practice that I still HATE! Come join our group on Facebook and be part of our...
Episode 40 How to Add a Fancy Border in Zoom! (And Produce your own LIVE Show!)Welcome to show number forty! In today's show, CJ pulls back the geek curtain and shows us exactly how to create a "scene" that you can use as your virtual camera inside your Zoom calls!...
Stay Connected to Get The Latest Alerts
Ask A Web Geek
Join Us!
Join our Facebook Group to ask your questions and interact with the community. Then, Subscribe on YouTube to watch all the videos we're releasing each week!
Contact Us
You are welcome to reach out on whatever platform you may prefer.  And yet, if you want to email us directly, please do!  We'd love to hear from you. 
How can we help you today?