Welcome to show number six! In this show, we look back at all the various topics we've covered so far. Thank you helping to build our community FB group! Come join our discussions and weigh in with your thoughts and suggestions!
Welcome + Greetings
How it Works
How to Join, Participate, Watch & Listen Later
Disclaimer – Consult your attorney!
Sponsors:
Featured Topic:
CJ's Free Video Workshop
Ideas and Suggestions to make your Website Work for your Business
Ask a Web Geek:
Jump into our ongoing conversations!
We Recap all our Episodes so you can find exactly what can help you
AaWG001

Scheduling Tool that integrates with Apple?
Use PR Web? Good for backlinks?
How to use personal domain name with Gmail?

AaWG002

Website vs Funnel – Which is best and why?
Recommend a Client Management System? aka a CRM – Customer Relationship Management
Recommend a Project Management System?

AaWG003

One Main Website vs Multiple Landing Pages?
How to make a "Buy Now" button for your website using Paypal

AaWG004

How to Add Video to a portion of your FB cover photo
Cheap, Offline Marketing things business owners can do
Affiliate Marketing Programs

AaWG005

Jump into our ongoing conversations!
How to Switch between Personal and Business Profiles when responding to comments on your FB page
What are the Best Times of Day to send Email Newsletters?

More Resources & links at GilbertStudios.com/resources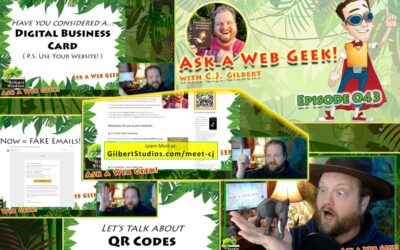 Episode 43 Return of the Geek: Electric BoogalooWelcome to show number forty-three! In this show, the geek returns with follow up warnings, new scams, new ways to network online and off (using your website of course!) and how to use some new, fun tech along the way....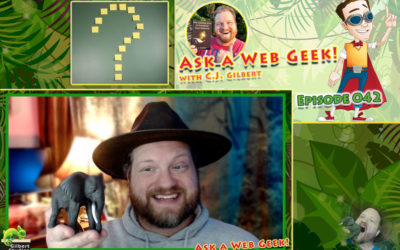 Episode 42 Welcome Back ReReboot!Welcome to show number forty-two! In this show, we get back into the swing of things, figure out what's new and remind you of how to plug into our community and recommend some previous episodes. Come join our group on Facebook and be...
New Episodes Weekly
LIVE Taping Wednesdays @ 9 AM PT / Noon ET
Replay + YouTube + Podcast to follow