Episode 43
Return of the Geek: Electric Boogaloo
Welcome to show number forty-three! In this show, the geek returns with follow up warnings, new scams, new ways to network online and off (using your website of course!) and how to use some new, fun tech along the way. Come join our Facebook group, ask any questions you have, and be part of our LIVE taping! Please join in on our ongoing discussions and share your own questions and ideas with the community!
Join our Virtual Business Networking:
Welcome + Greetings
How it Works
How to Join, Participate, Watch & Listen Later
Disclaimer – Consult your attorney!
Sponsors:
Last Time on AaWG:
Welcome Back ReReboot!
SEE SEO PLAYLIST:
Featured Topics:
WARNING FAKE Emails

Domain Renewals and Banking Email Scams

Digital Business Card

Refer to / Browse https://www.gilbertstudios.com/meet-cj
Intro + Pic (& Social Media links)
QR Code (for easy sharing)
Free Video Workshop (lead magnet)
AaWG (…website, YT channel, FB group)
Resources & Free BONUS Training
Promo at Top (sometimes)

YOUR Digital Card

Start SIMPLE!
Intro + Pic (& Social Media links)
Gift / Lead Magnet
Then Add…
Resources & BONUS Training
Promo at Top (sometimes)

QR Codes

Static
Dynamic
Add Logo / Pic
Create Several
Ask a Web Geek:
Join our FB group:
Jump into our ongoing conversations!
What are YOUR questions? How can we HELP YOU?
More Resources & links at GilbertStudios.com/resources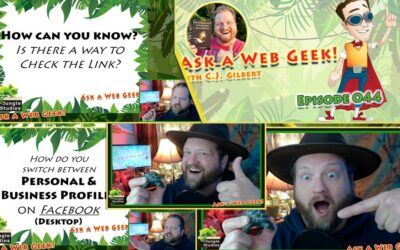 Episode 44 Zoop Whoop! Be Safe & Switch Profiles with EaseWelcome to show number forty-four! In this show, the geek encourages you to take slow, small steps as you keep moving forward! Be vigilant and safe as you browse the internet jungle! Join our Facebook...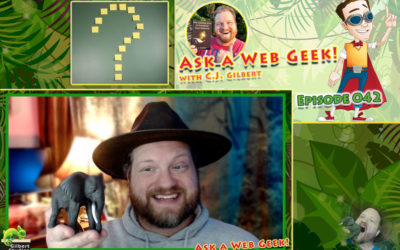 Episode 42 Welcome Back ReReboot!Welcome to show number forty-two! In this show, we get back into the swing of things, figure out what's new and remind you of how to plug into our community and recommend some previous episodes. Come join our group on Facebook and be...
New Episodes Weekly
LIVE Taping Wednesdays @ 9 AM PT / Noon ET
Replay + YouTube + Podcast to follow