Episode 9
Networking Your Way through the Business Jungle
Welcome to show number nine! In this show, CJ says ridiculous things and babbles for a bit before finally delivering some really interesting resources and some great information regarding business networking groups — what they are, and how to make the most of them for your business! Come help build our FB community! Come join our discussions and weigh in with your thoughts and suggestions!
Welcome + Greetings
How it Works
How to Join, Participate, Watch & Listen Later
Disclaimer – Consult your attorney!
Sponsors:
MyWebsiteSafari.com

Feel free to give this away as a free gift from your business to your clients!
Featured Topic:
Business Networking
(…inspired by Dr Ivan Misner's work, among others.)
Giver's Gain
The "Seagull" Networker
VCP = Visibility, Credibility, Profitability
2 Kinds of Networking Groups
Places to find Networking Groups

Meetup.com
Eventbrite.com
Facebook.com

Read more & find more links at GilbertStudios.com/blog
Ask a Web Geek:
Jump into our ongoing conversations!
Ask YOUR Questions!

in our Facebook Group
on our Twitter @askawebgeek
as a comment on YouTube
or email info@askawebgeek.com

Ask Us Questions about online tools you're struggling with, websites, email marketing, website software and plugin updates, backups, marketing, setting up an email list, creating your email opt-in form, social media profiles and pages, choosing a social media platform, and anything else you need help with!

No such thing as a stupid question! We're here to help.

More Resources & links at GilbertStudios.com/resources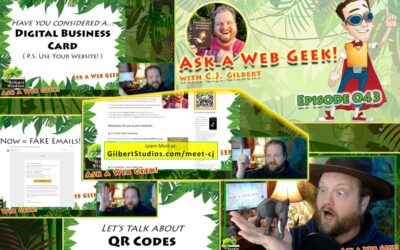 Episode 43 Return of the Geek: Electric BoogalooWelcome to show number forty-three! In this show, the geek returns with follow up warnings, new scams, new ways to network online and off (using your website of course!) and how to use some new, fun tech along the way....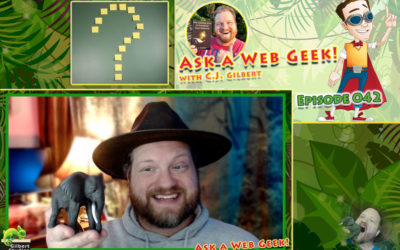 Episode 42 Welcome Back ReReboot!Welcome to show number forty-two! In this show, we get back into the swing of things, figure out what's new and remind you of how to plug into our community and recommend some previous episodes. Come join our group on Facebook and be...
New Episodes Weekly
LIVE Taping Wednesdays @ 9 AM PT / Noon ET
Replay + YouTube + Podcast to follow