Episode 8
How to Become a Lion & Conquer Your Domain
Welcome to show number eight! In this show, CJ introduces you to a new jungle animal and his new service adventures. Then, we thank you for helping to build our FB community! Come join our discussions and weigh in with your thoughts and suggestions!
Welcome + Greetings
How it Works
How to Join, Participate, Watch & Listen Later
Disclaimer – Consult your attorney!
Sponsors:
Featured Topic:
The Jungle has a brand new Lion!
Lions Clubs International is the largest community service organization in the world.
Check out the amazing service organizations near you and jump in!
Ask a Web Geek:
Jump into our ongoing conversations!
What are some effective ways to market a webinar?

Chamber of Commerce and Entrepreneur meetings
Guerilla Marketing: Easy and Inexpensive Strategies for Making Big Profits from Your Small Business

What is the difference between .com .net .org?
What's the benefit of one over another?

Can't decide? Grab both they're cheap!
You may come up with a creative idea to use them.
Use them as a landing page, or even to redirect to something else.

What is some advice on growing a YouTube channel?

Ask! Please subscribe here: youtube.askawebgeek.com
Check out episode 7 where we talked about promoting a webinar.

Facebook Communities/Groups and Facebook Lives
Website or Landing Page with Funnel, Opt in, Free Gift

How to grow an email list?

Thanks to Rob for his amazing illustration of exactly how to do this by…
Create a small e-book
Create a landing page to host the opt-in
Use software like Buffer to post offer all day
BONUS ideas for Rob to consider to tweak his e-mail opt-in landing page!

More Resources & links at GilbertStudios.com/resources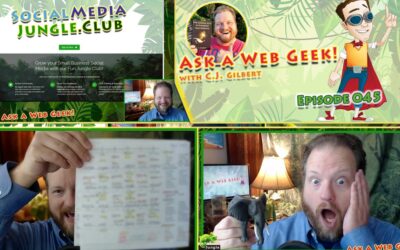 Episode 45 Show and Tell: Announcing (and Working on!) Social Media Jungle .ClubWelcome to show number forty-five! In this show, the geek practices what he preaches as he creates numerous pieces of content out of one taping! Join our Facebook group, ask any questions...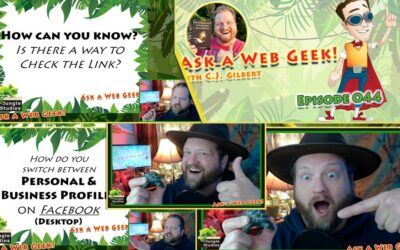 Episode 44 Zoop Whoop! Be Safe & Switch Profiles with EaseWelcome to show number forty-four! In this show, the geek encourages you to take slow, small steps as you keep moving forward! Be vigilant and safe as you browse the internet jungle! Join our Facebook...
New Episodes Weekly
LIVE Taping Wednesdays @ 9 AM PT / Noon ET
Replay + YouTube + Podcast to follow